Connections
In the Network tool window, you can create and manage connections to other computers running Ultra Fractal Server.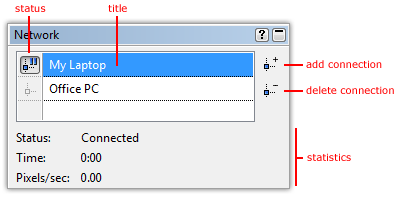 The Add Connection button creates a new connection. This will open a dialog box where you can enter the address of the computer to connect to. To get help on a control in this dialog box, click the ? button in the title bar, and then click the control.
The Delete Connection button deletes the selected connection.
The status icon before each connection shows its current status. Click on the icon to disable and enable the connection.
In the list, the titles of the connections are displayed. Click on the title of the selected connection to rename it. Double-click a connection to edit its properties. You can drag connections up or down to organize them.
Below the list, various statistics on the selected connection are displayed.
Right-click inside the list to open a pop-up menu with frequently used commands.
Next: Tips
See Also
Network calculations
Connections